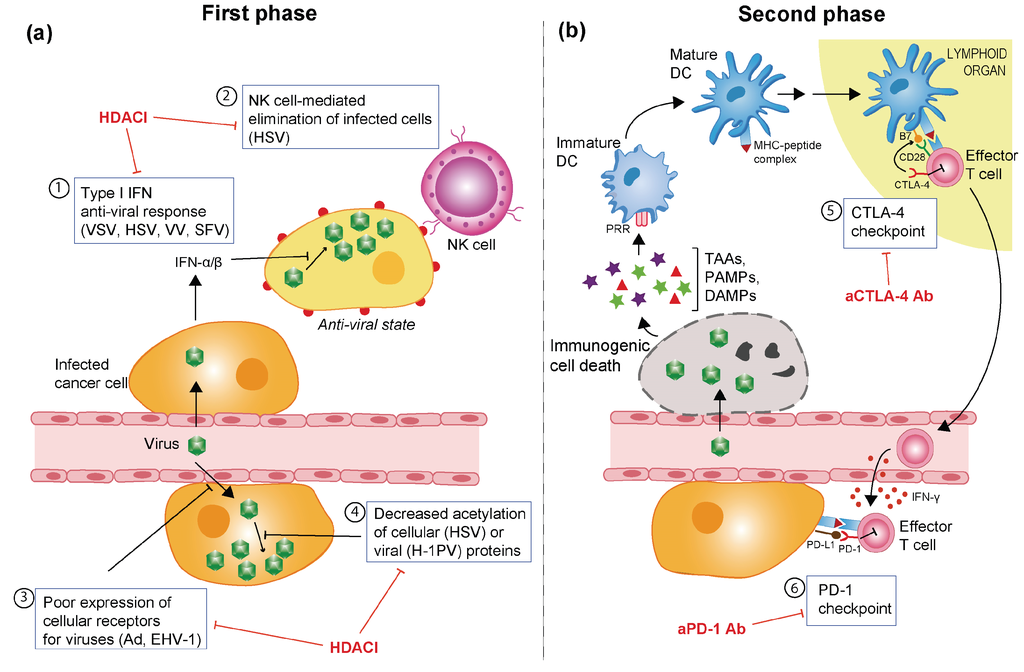 Combination therapy with OV and chemotherapy is of intense interest as the effects of chemotherapy optimize the tumor environment for viruses to infect and lyse cells in an immunogenic fashion 27 32. HSV-1 and its related vectors have shown antitumor efficacy in both in vitro and in vivo studies, providing the basis for clinical trials 6,10,35. Adenovirus (Ad) was first isolated in attempts to develop cell lines from tonsils and adenoids by Rowe et al. OVs can either activate (HSV) or inhibit (Ad) DNA repair mechanisms to enhance their own replication and cytotoxicity 105. Keywords: Cancer, chemotherapy, combination therapy, oncolytic virus, synergism, virotherapy. Other strategies involve the use of drugs that can enhance virotherapy by counteracting or inhibiting host pathways that limit virotherapy. Aside from enhancing oncolytic virotherapy with cell carriers and immunosuppresants, improvements upon the OVs themselves have led to the engineering of second generation armed OVs that express transgenes aimed at: 1) overcoming the limitations in the spread and oncolysis of OVs, 2) inducing favorable antitumor immunity, and/or 3) increasing the applicability of these viruses to enhance current standard chemotherapies. Similar to HSV-1, the efficacy of systemic delivery of an oncolytic VACV construct that was deleted for two viral virulence genes (called vvDD), was enhanced by CPA in a rat glioma model. Ad5/35 or HSV-1 amplicon vectors synergistically enhances chemotherapy with temozolomide. Wild-type HSV can invade and replicate in both neurons and glia, resulting in necrotizing encephalitis and widespread hemorrhagic necrosis throughout infected brain parenchyma. To enhance the treatment efficacy of oncolytic vectors we combined viral oncolysis with the intratumoral expression of measles virus fusogenic membrane glycoproteins H and F (FMG) and temozolomide chemotherapy, since we demonstrated in previous studies in colorectal and pancreatic cancer cell lines that the expression of FMG synergistically enhances the cytotoxicity of clinically relevant chemotherapy and significantly improves therapeutic outcome in vivo.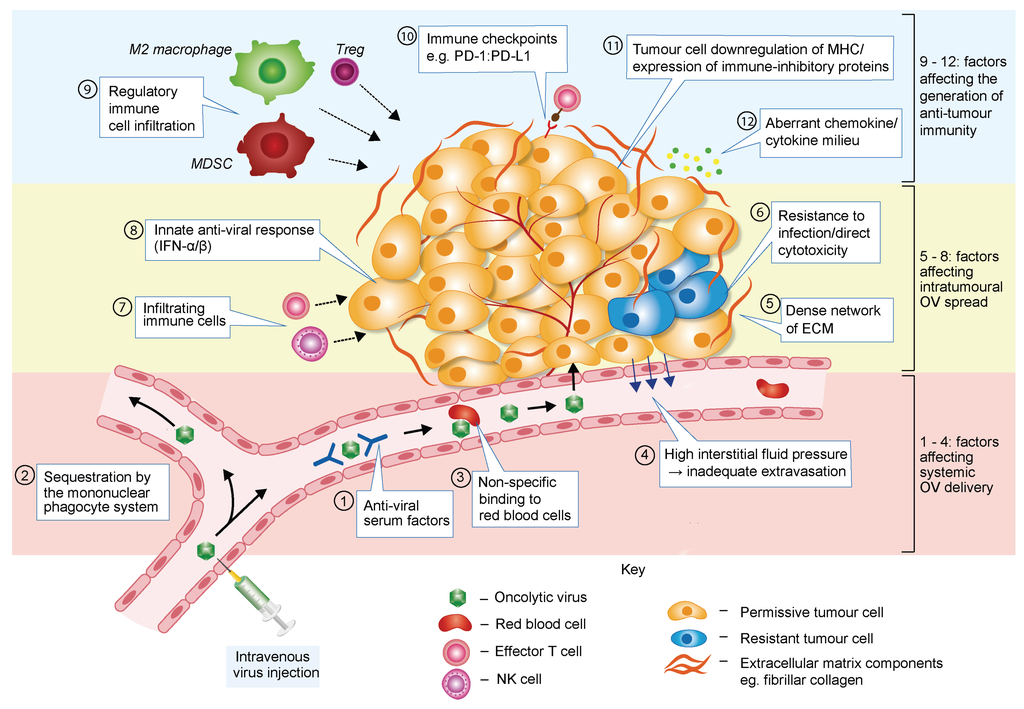 To date, surgery, radiotherapy, and standard systemic chemotherapy comprise the standard treatment options in the majority of cancer patients. For example, Talimogene laherparepvec (T-VEC; herpes simplex virus-1 (HSV-1) recombinant expressing granulocyte macrophage colony-stimulating factor (GM-CSF)) showed a potent antimelanoma immune response after local intratumoral injection in patients with metastatic malignant melanoma in phase 2/3 clinical trials. Furthermore, there is emerging evidence that certain oncolytic viruses can also induce immunogenic cancer cell death when applied alone or in combination with certain chemotherapeutics. This article focuses on oncolytic adenoviruses that have been created and tested in preclinical and clinical trials in combination with chemotherapy, radiation therapy, and gene therapy. Viruses have evolved to maximize their ability to enter cells, use the machinery of the host cell to replicate and package their own genome and lyse the cells to release their progeny and propagate the viral replicative cycle. Furthermore, oncolytic virotherapy will create selection pressure for survival of tumor cells that do not express viral-binding receptors. Markert JM, Medlock MD, Rabkin SD, et al Conditionally replicating herpes simplex virus mutant, G207 for the treatment of malignant glioma: results of a phase I trial. Keywords: oncolytic virus, virotherapy, breast cancer, metastasis.
In addition, adenoviruses can also be useful tools in anti-glioma gene therapy, mainly through bearing a suicide cassette that induces the conversion of prodrugs into active drugs (HSV-tk system). Adenoviral fiber gene modifications that enhance glioma-specific viral targeting have been incorporated in these survivin-controlled CRAds and have shown promising results both in vitro and in vivo (Ulasov et al. The in vivo efficacy of a genetically engineered replication-defective HSV-1 (dvB7Ig) expressing a potent costimulatory molecule, B7-1, has been tested in conjunction with G207 (Galea-Lauri et al. Although mostly effective in the pre-clinical setting, each delivery vehicle has its own advantages and limitations. Herpes simplex virus (HSV) was one of the first viruses to be adapted to attack cancer cells selectively, because it was well understood, easy to manipulate and relatively harmless in its natural state (merely causing cold sores) so likely to pose fewer risks. 38 It has been shown that immunosuppression by chemotherapy and inhibition of the complement system can enhance oncolytic virus therapy. Cancer cells and virus-infected cells have similar alterations in their cell signalling pathways, particularly those that govern progression through the cell cycle. To further enhance virotherapy, we combined the oncolytic adenovirus vectors with intratumoral expression of measles virus fusogenic membrane glycoproteins H and F (MV-H/F) and dacarbazine chemotherapy. Furthermore, the combination of virotherapy, intratumoral expression of MV-H/F, and chemotherapy was clearly superior to single- or double-agent therapy.
Molecular Therapy
Here, we will review the outcome of completed glioma virus therapy trials as well as highlight the ongoing clinical activities. On this basis, we will give an overview of the numerous strategies to enhance therapeutic efficacy of new-generation viruses and novel treatment regimens. The most commonly used system employs herpes simplex virus type I thymidine kinase (HSV-TK), which activates ganciclovir (GCV) into its toxic nucleotide metabolites with very high selectivity for incorporation into DNA. In a recent phase I clinical trial, an adenoviral vector with E1 and partial E3 gene deletions, rendering the virus replication incompetent, was utilized to achieve sustained long-term expression of interferon (IFN)- in glioma patients34 in order to improve the encouraging outcome of brain tumor treatment with IFN- recombinant protein. Once the transgene enters a cancer cell, it can then assists in its death or restore normal cellular functions, whereas for normal cells, the transgene can protect them from drug-induced toxicities, or activate an immune cell to get rid of the cancer cell. Since then, there has been a dramatic advancement in chemotherapy treatment for cancer 7. They can be engineered to carry magnetic or fluorescent material to enhance the utility of diagnostic approaches in tumor localization, such as with magnetic resonance imaging (MRI) 35, and even in the development of cancer vaccines 36. This represents small, single-stranded DNA viruses, which do not usually cause infection without co-infection of a helper virus, such as adenovirus, or herpes simplex virus. After adenovirus binding with CAR-ligand fusion protein, it will not be able to bind to its primary receptor. The role of the immune system in oncolytic virotherapy for glioma remained much less studied until recent years. More recently however, a new paradigm has developed in the oncolytic virotherapy field stating that oncolytic virus-mediated tumor cell death can be accompanied by elicitation of potent activation of innate and adaptive anti-tumor immunity that greatly improves the efficacy of certain oncolytic strains. Virotherapeutics such as Herpes simplex virus (HSV), Newcastle disease virus (NDV), and vaccinia virus have demonstrated systemic safety and efficacy in clinical practice and OVs have been indicated as a safer alternative than other cytotoxic agents used in phase I oncology studies (8). Neural stem cell-based cell carriers enhance therapeutic efficacy of an oncolytic adenovirus in an orthotopic mouse model of human glioblastoma. Chondroitinase ABC (Chase-ABC) is a bacterial enzyme that can remove a major glioma ECM component, chondroitin sulfate glycosoamino glycans from proteoglycans without any deleterious effects in vivo. Enhancement of Oncolytic Virus Spread and Anti Tumor Efficacy: A Mathematical Model. Chase-ABC has been widely used to enhance regeneration of injured axonal tracts due to its a long-lasting 'loosening' effect on the ECM scaffold 28, 34. OV-Chase is an oncolytic HSV-1-expressing bacterial Chase-ABC driven by a promoter within the backbone of rHsvQ (control). Vesicular stomatitis virus (VSV) is a promising oncolytic agent against a variety of cancers. As a result, OVs can infect, replicate within, and kill tumor cells. The human PDA cell lines used in this study were CFPAC-1 (ATCC CRL-1918), Hs766T (ATCC HTB-134), Capan-2 (ATCC HTB-80), T3M4 (54), AsPC-1 (ATCC CRL-1682), HPAF-II (ATCC CRL-1997), Suit2 (34), HPAC (ATCC CRL-2119), BxPC-3 (ATCC CRL-1687), MIA PaCa2 (ATCC CRL-1420), SU.
Frontiers
Oncolytic viruses derived from Herpes Simplex Virus-1 (HSV-1), Adenovirus (Ad), New Castle Disease Virus (NDV), and Reovirus (RV) have been tested in several clinical trials for the treatment of malignant glioma. Several innovative strategies to enhance intratumoral viral spread and antitumor efficacy without compromising its safety are currently under investigation. This cycle then can repeat, by infection of adjacent cells and their subsequent destruction by the same mechanism. Furthermore, some oncolytic viruses are modified to encode immune-stimulatory cytokines, including interleukin (IL)-12 and granulocyte macrophage-colony stimulating factor (GM-CSF) encoding HSVs (BioVex), adenoviruses (Cell Genesys) (Table 2). 1) 1-3. In general this tumor selectivity can be achieved in one of two ways; These tend to be larger viruses that are amenable to genetic engineering to produce or enhance their tumor selectivity.